[ad_1]

For all their lives identical twins, Hanna Thompson and Metta Siebert have done everything together, and when one didn't follow in the other's footsteps the other was right there supporting their sister.
"We were more or less attached at the hip," Hanna told ABC7. "We even went to the same college together."
But recently the two women received news at nearly the same time that has connected them once again.
In June, Metta was diagnosed with breast cancer, and just a few weeks later Hanna received the same diagnosis.
"To say it was a one-two-punch was an understatement," Metta said.
According to a GoFundMe set up to help both of their families cover expenses they will incur over the coming months, Metta felt a lump in her left breast in the beginning of the summer. She went to have it checked out, despite believing that 35-year-olds don't gets cancer, and it turned out she was wrong.
Her diagnosis prompted her twin sister to get a lump she dismissed as a clogged milk duct checked out, and she too was diagnosed with breast cancer.
"We're like the super special identical twins and we're clearly taking that way too far," Hanna said.
Hanna, who lives in San Francisco, and Metta, who lives in Kansas City, are identical mirror twins, meaning one of them is left-handed and one is right-handed. The same can also be said for the location of their masses.
Both of them also have the BRCA2 gene mutation, which means they have a 70 percent chance of getting breast cancer.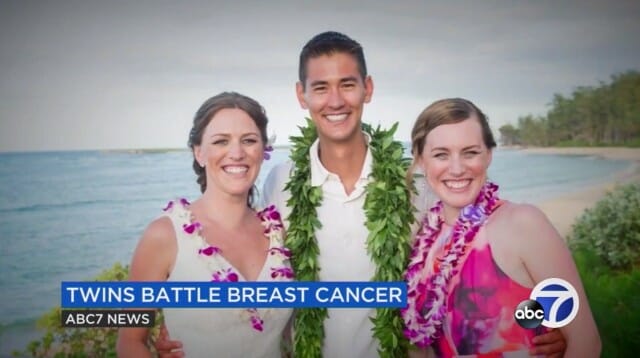 Dr. Pamela Munster, a leading oncologist at UCSF specializing in breast cancer and the co-leader of the Center for BRCA Research, said it's not entirely uncommon for sets of twins to have cancer at the same time. However, the timing of their diagnoses is special.
"Maybe this has all been an opportunity because one of the twins that was diagnosed can now tell the other one to get tested, and hopefully we can detect the tumor much sooner," Dr. Munster said.
The women will receive chemotherapy before undergoing surgery and possibly radiation. And while neither wishes cancer on anyone, they're both glad they are able to go through this journey with each other.
"There's no other person I'd rather be going through it with than my twin sister," Hanna said.
I can't even imagine! I'm so glad they have each other during this extremely difficult time in their lives.
Share this to wish them well and pray that they both recover.


[ad_2]