[ad_1]

When cousins and best friends Morris Sana and Simon Mairowitz were separated in Romania as children during World War II, each thought the other had died.
But 75 years later 87-year-old Morris and 85-year-old Simon cried tears of joy when they were reunited in Israel.
The video of them meeting for the first time in over seven decades has gone viral and when you see it you'll understand why.
When the Nazis invaded Romania in 1940 the then boys were forced to flee separately with their families.
The two grew up thinking the other had died in concentration camps during World War II.
It's thought at least 6 million Jewish men, women and children were killed by the Nazis during the Holocaust, as reported by People.
But their relatives managed to reconnect on social media and arrange a reunion with Morris who now lives in Israel and Simon, who lives in the U.K.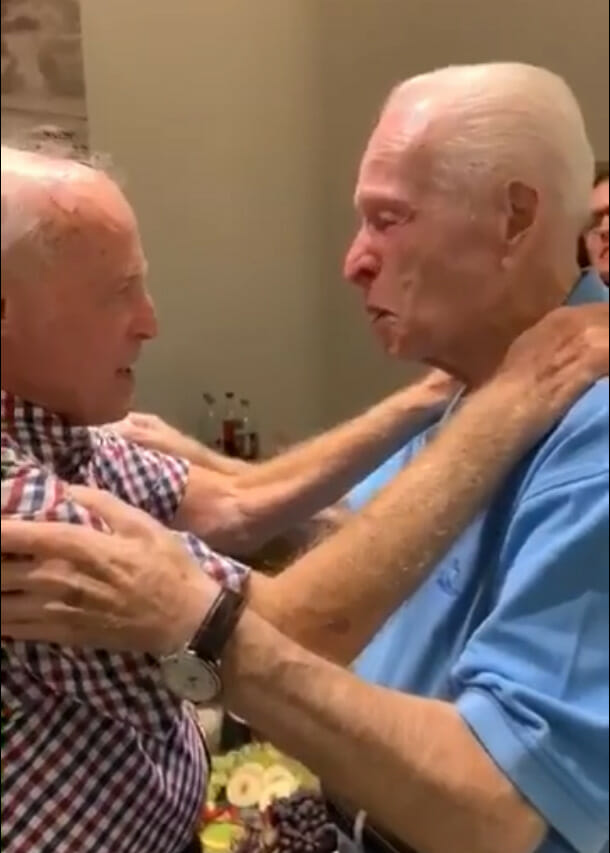 'We've got each other now'
In a clip posted by the relatives, you can see the emotional moment when the two men finally get to see each other again.
"Good to see you," Morris says after the two have hugged and cried tears of emotion.
"Good to see you too after all these years," says Simon, holding his cousin's face in his hands "Seventy-five years you waited."
"I know it's a long time We've got each other now. And we can see each other," adds Morris.
See the heartwarming moment they meet in the clip below
I can't imagine how overjoyed you would be seeing a relative again who you believed was dead for decades.
These two have been through so much and deserve this happy reunion and each other.
Please SHARE this clip with your friends and family.


[ad_2]