[ad_1]

Do you have any traditions that wouldn't be the same if some people were missing?
For about seven years, Brandt Barber and his three sons visited a Dairy Queen in Forsyth County, Georgia. They always sat at the same table, ordered the same things, and usually had the same waitress.
But there came a time when his boys were no longer able to attend their weekly Dairy Queen outings.
The 57-year-old father shared the sentimental photos on his previously private Instagram, but when one of his son's found his dad's post and tweeted it their weekly father-son tradition went viral.
Typically once a week, Brandt and his three sons, Brooks, Bryce, and Luke, would visit their local Dairy Queen after dinner for a treat.
In a photo he posted of his sons in late August, Brandt said that the photo was from the year the number of people included in their weekly Dairy Queen trip changed. Brooks, his oldest son, went to college that year.
The next photo showed Brandt and his twins, Bryce and Luke.
Before Brandt knew it, his youngest sons were off to college, "and then there was 1." When all of his boys were away at college, Brandt still visited Dairy Queen, but it was different.
"DQ was never really the thing, spending time driving to and from and talking, listening to their music and watching all of them interact as brothers, now that was the thing," he wrote. "Maybe I'll get by here every now and then and certainly when they are all home but with them not here it's just ice cream."
Shortly after Brandt uploaded the photos, Brooks saw them and shared them on Twitter. They went viral.
"Why did my dad have to go this hard on insta and why am I crying in Nashville rn."
After receiving an overwhelming response, he informed everyone that he and his brothers planned on going back to Dairy Queen with their father soon.
They recently visited their local Dairy Queen in Georgia and received a warm welcome.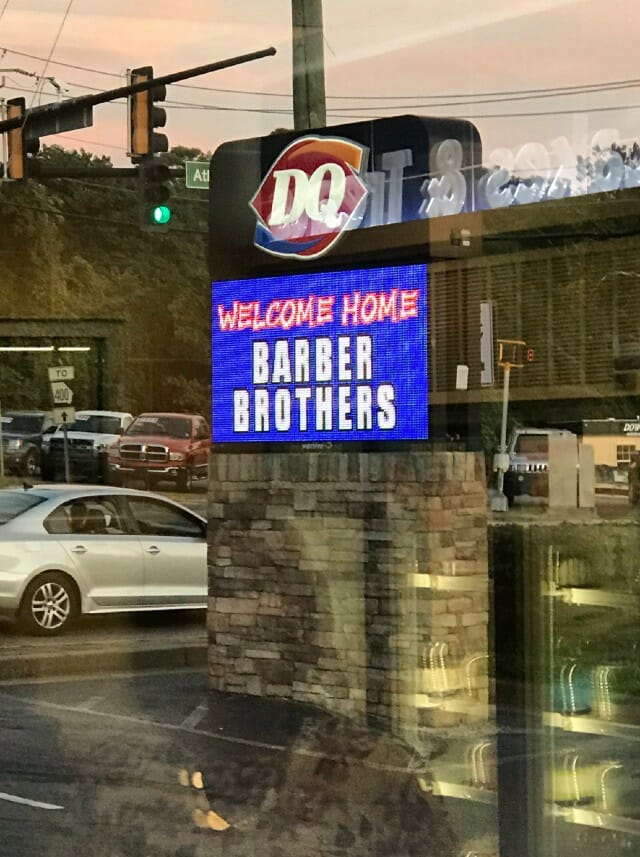 Their local Dairy Queen welcomed them home with a sign out front, served them an ice cream cake, and dedicated a booth to them.
Well folks, we finally made it back to DQ with our Dad, only this time with our new booth pic.twitter.com/L19YGpipWy

— Börks (@BrooksBarber) September 25, 2019
Now, how sweet is that?
I love these kinds of stories. I wish my family had a special tradition like this.
If you can relate to this father's relationship with his sons, share this post.


[ad_2]