[ad_1]

The United States Coast Guard released an incredible video of a drug bust done at sea. The dramatic scene unfolded in the Eastern Pacific Ocean on June 18.
According to NBC News, it was one of 14 vessels that were intercepted off the coasts of Mexico, Central and South America between May and July.
In the dramatic video, a service member on board the U.S. Coast Guard Cutter Munro can be heard screaming at the semi-submerged vessel.
"That's going to be hard to get on," someone else says.
The Coast Guard closes in and crew members jump on top of the submarine as it continues to move. They bang on the hatch, and within moments an unidentified person emerges.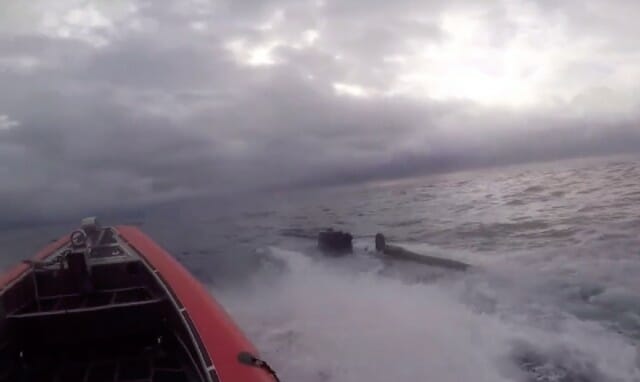 Roughly, 17,000 pounds of cocaine was discovered inside the self-propelled submersible vessel, also known as a "narco-sub," along with five smugglers, according to NBC News. A spokesman for U.S. Coast Guard Pacific Area told the Washington Post it's estimated to be worth $232 million.
When the cutter returned to San Diego with the seized drugs, Vice President Pence was there to greet the crew.
"Make no mistake about it, Coasties, your courageous service is saving American lives," he said.
The Coast Guard's operations, which began in May will reportedly lead to the prosecution of 55 alleged smugglers. The five people on board this particular vessel were turned over to the DEA for prosecution.
What a catch! The video is absolutely incredible.
Share this on Facebook to thank these brave crew members for putting their lives on the line every day for our country.


[ad_2]