[ad_1]

There are thousands of dogs all over the world simply waiting to be adopted, living insecure lives without knowing what tomorrow will bring.
That's why the heroes that work to give them a second chance in life deserve to be praised and celebrated.
89-year-old Maisie Green is certainly one of them. She developed a soft spot in her heart for dogs who had no one and nothing else – those living in shelters – and decided she had to act upon it to improve a great many lives.
To that end, she began to knit blankets … a whole lot of them.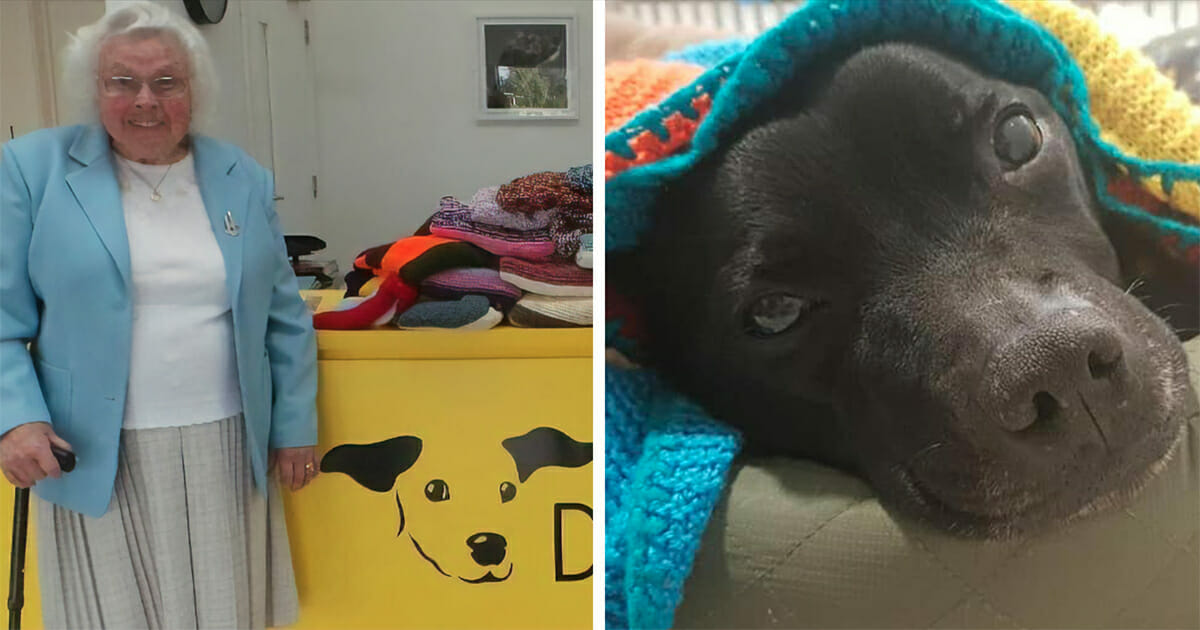 89-year-old Maisie Green truly has a heart of gold. A genuine animal lover, she spends her free time working on things to improve the lives of dogs living in shelters.
When Maisie was concocting ways in which she could make a difference, she turned to one of her other passions in life: knitting. Why not combine the two? she thought.
It was as good as done. To date, Maisie has knitted in excess of 450 blankets for dogs in need!
"I love knitting and I love dogs, so this combines both wonderfully! It takes me three days to knit a blanket and one day to knit a doggy coat. It keeps me busy and often, I like to knit whilst watching television. I'm delighted to be helping the four-legged residents at the center in some way," the 89-year-old said, as per Bored Panda.
For Maisie, knitting is both a source of enjoyment and a way of working towards an end goal.
"It keeps me working, and I usually knit while watching TV," she explained.
Thank you for donating blankets to your local centre 🐶💕 Our doggies really appreciate an extra snuggly bed at this time of year ❄️🛌

Posted by Dogs Trust on Sunday, 25 November 2018
Maisie's fantastic efforts have been of tremendous help to the shelters, not least to the dogs themselves, who now never have to worry about being cold.
"I'm delighted to be helping the four-legged residents at the center in some way," she continued.
The scheme really has proven to be a success! Just look how cozy these dogs are.
The Rehoming Centre Manager at Dogs Trust Basildon said: "Maisie regularly brings along her knitted donations and we are so grateful for her support. With the chill of the winter months really starting to creep up on us, I know our dogs are very pleased to put the items to good use – and love feeling extra cosy!"
Maisie really is an animal hero! Just think of how many hours she's committed to helping animals in need.
Share this article to praise her for her brilliant work.


[ad_2]