[ad_1]

Fortunately, *touch wood, I haven't yet been in a situation wherein any of my babies have been seriously hurt. Honestly, I dread that day, and just pray I'll know how to act if and when some accident befalls them.
Well, one mom, Koddi Dunn was forced to leap into action when her daughter was hospitalized by a slice of pizza from Little Ceasars. The two-year-old suffered burns so bad she had to be treated, turning what should have been a nice family day out into a nightmare.
Koddi Dunn and her family were on their way home from visiting family in Lawrenceville, Georgia, when they stopped for pizza at Little Ceasars.
Dunn picked up a Hot-N-Ready pepperoni pizza and handed it to her 15-year-old son Jeremiah. As he went to give a pizza slice to his little brother, however, a bone-shuddering scream tore through the car.
"I have never heard such a sound come from a child," Koddi explained to 11Alive.
It transpired that scalding hot sauce and cheese had fallen from Jeremiah's pizza and onto his two-year-old sister Jordyn's leg. The family pulled over and Koddi got Jordyn from her car seat, but the damage had already been done.
"It took all of 30 seconds. In that small amount of time, she continued to cry uncontrollably and said, 'Mommy my hand!'" Koddi said.
Doctors explained that Jordyn had suffered second-degree burns which had already started to blister.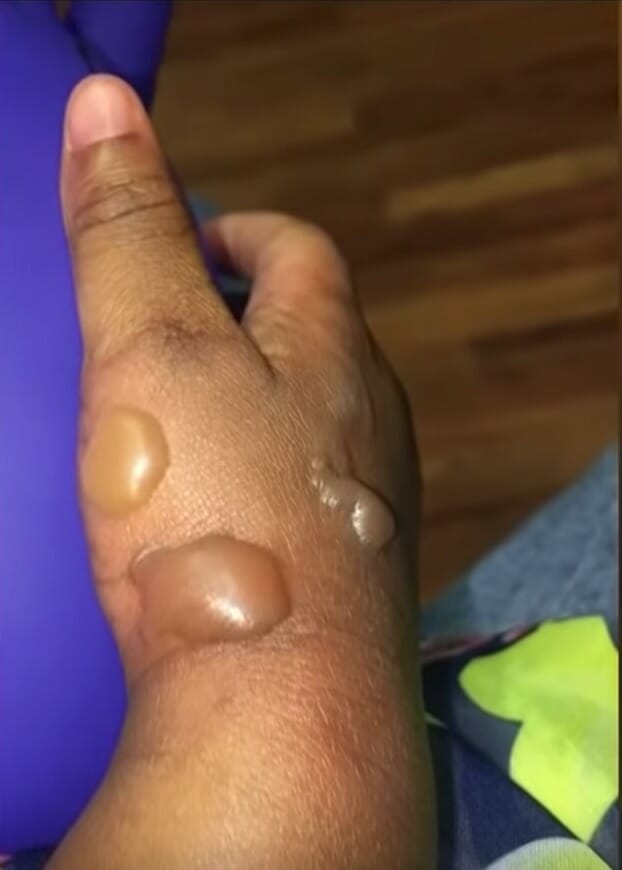 In the immediate aftermath, Koddi returned to the Little Ceasars to speak with the manager. She was told that the Hot-N-Ready pizzas are usually held at 165 degrees when they're given to customers. Due to the restaurant being so busy that night though, pizzas were coming straight from the oven at nearly 500 degrees!
Koddi says she was never warned that the pizzas were so hot, and the manager of the store reportedly told her he'd take down her complaint, but that upper management would likely do nothing about it.
"A $5 box of pizza should NEVER end with a trip to the ER," Koddi said.
We hope little Jordyn can makes a swift recovery, and would warn everyone to be careful when handling hot products.
Help us by sharing this article on Facebook!


[ad_2]