[ad_1]

September is childhood cancer awareness month and one high school in San Antonio, Texas is choosing to raise awareness by honoring three students who died from cancer last year.
On Tuesday, East Central High School unveiled three memorial plaques dedicated to the three teenagers who died just a few weeks apart from each other the previous summer.
"It doesn't get better," Loretta Martinez, her son Joey died in June 2018, told News 4 San Antonio. "It's just like a dream. I wake up every day wanting him to be there."
"There's just not as much of an emphasis placed on childhood cancers as we think there should be," the school's principal, Shane McKay, said. "[This campaign] helps to go to support not just research, but to support families."
Students kicked off the month with their Go for Gold campaign. They spent the day placing ribbons around campus, hanging posters, and putting containers out to collect donations.
"Kids really pulled together and really believe in each other and look out for each other," McKay said.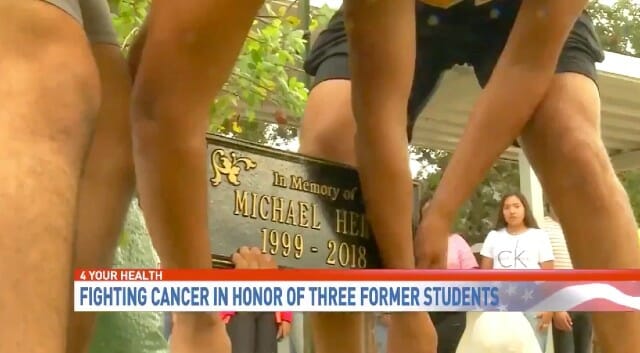 In addition to the gold ribbons and posters, three trees and plaques were dedicated to three former students who died from cancer.
Although they died within six weeks of each other, they received their diagnoses at different times and had different types of cancers.
Michael Heras, 18, died on May 25, 2018, after a two-year battle with osteosarcoma. His mother, Jessica, said it wasn't until he died that his family learned his cancer was resistant to chemotherapy.
"He ran out of options really fast."
Joey Natividad, 17, died on June 6, 2018. Seven months after being diagnosed with rhabdomyosarcoma, he died.
"My child was healthy for 17 years," Joey's mother Loretta Martinez said. "17 years. And then boom. Cancer."
Robert Stansbury, 17, died on July 3, 2018 from Acute Myeloid leukemia after originally being diagnosed with myelodysplastic syndromes. Despite an initial misdiagnosis, his mother said he never showed any fear.
"I asked him several times if he was scared or worried and he always told me no," Andrea Stansbury said.
East Central High School lost three students in three months to cancer.

Michael Heras, 18, died in May 2018
Joey Natividad, 17, died in June 2018
Robert Stansbury, 17, died in July 2018

I spoke to their families about East Central's new campaign to fight childhood cancer. pic.twitter.com/aLo1hgdarC

— Robert Price (@RobertPriceTV) September 18, 2019
The school is raising money through Alex's Lemonade Stand and hopes to raise $2,000 by the end of the month. Their month of raising awareness will conclude at the school's football game on September 27 where they plan on setting up a tent to register people to become bone marrow donors.
Although this is the first time the school is holding such an event, McKay said they plan on making it an annual tradition.
What a sweet way to honor these students. Let's share this on Facebook and help this school reach their goal.


[ad_2]