[ad_1]

Animal rescuers often have to help animals escape from harsh and sometimes peculiar situations. One such instance occurred Tuesday when officials in San Francisco were alerted to a cat in a dangerous location – the Bay Bridge.
Someone living in a nearby apartment spotted the cat sitting on the ledge of the bridge that connects Oakland and San Francisco and contacted animal control.
SF Animal Care and Control, along with the California Highway Patrol and the California Department of Transportation, worked to rescue the trapped cat.
It's unclear how it ended up there, but the cat was perched on a ledge. The black and white cat, which was determined to be a six-year-old male had a harness on as well as a leash.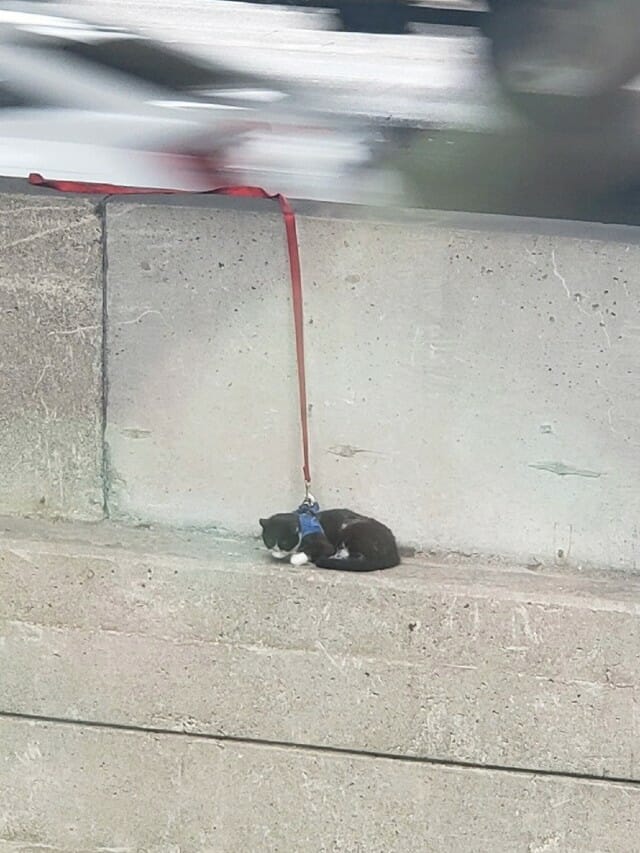 "Luckily, the leash was hung up on something on the wall on top of the ledge," Deb Campbell, an animal control spokeswoman, told the San Francisco Chronicle.
As one officer grabbed the cat's leash, another carefully put a net over the feline, and they were able to pull the cat to safety.
This afternoon our officers rescued, with the assistance of CHP and Caltrans, this cat from a Bay Bridge ledge 100's of feet over the water. We have not identified an owner yet– is this your daredevil kitty? Cat is safe with us, contact 415-554-6364 if you recognize. pic.twitter.com/QTQ54pBKgF

— SF Animal Care (@SFACC) August 21, 2019
The cat, which was named Tenzing, after Tenzing Norgay, was brought back to SFACC where officials hope the cat's owner will come forward.
"We would ask some questions, certainly; we're really curious how the cat got there," Campbell said. "We would love for the owner to come forward and identify themselves."
While SFACC wants Tenzing's owner to come forward, others want them to be punished.
What do you think? It's unclear how the cat got on the bridge. Do you think Tenzing's owner should be punished or should they be allowed to reunite with their cat?
Share this post and let us know!


[ad_2]