[ad_1]

If someone you loved was trapped in a burning building, how far would you go to save them?
One man's recent actions showed that he is willing to risk his life if it meant saving a love one.
On Thursday a fire broke out in a 19-story building in West Philadelphia. The blaze, which occurred around 9:30 p.m., caused "heavy smoke" and trapped residents in their homes on several floors, according to a Philadelphia Police Department spokesperson.
Helicopters hovered over the building as the scene unfolded.
Philadelphia's Action News helicopter was filming on location when its camera spotted a man scaling the building.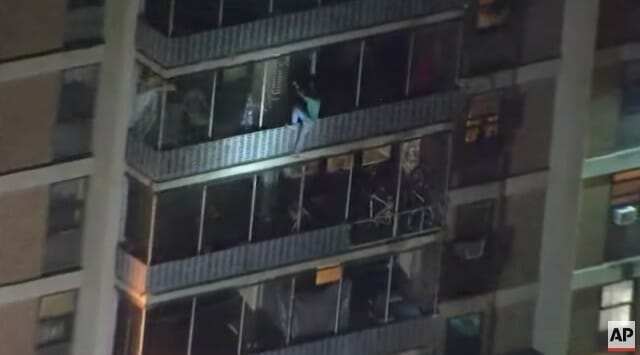 Initial reports suggested the man was climbing down the side of the building to escape the flames, but neighbors told Action News that wasn't the case.
The unidentified man reportedly rushed to the building because he has family who lives there, and he was under the impression that his mother was still inside.
He was unable to gain access to the building so he began to climb up the side of the building.
"He got up there and couldn't get in because you see how the gates is, and he climbed back down," Lisa Stenson, a resident of the apartment building, said.
He reached the 15th floor before he climbed back down.
"He climbed about 200 feet down on what looked like basically chain-link fencing and then the railings of each apartment building," NBC 10 pilot Jeremy Haas, said, according to PEOPLE.
All residents were able to escape, four residents and three police officers suffered injuries, and the fire was under control in an hour.
The Associated Press reported that the fire is believed to have started in a trash chute, which sent smoke to all floors of the building.
The man's mother made it out of the building unharmed.
Would you scale a building to try and save someone's life? I'm not sure if I could.
Let us know on Facebook what you would do in this situation.


[ad_2]