[ad_1]

For years Lucio Delgado studied English in preparation to take the test to become a U.S. citizen, but when the time came for the reading portion of the exam he was at a loss.
"I'm like, I don't read large print," he told The Washington Post. "I'm totally blind."
Delgado was born blind and though he requested a Braille version of the exam, the U.S. Citizenship and Immigration Services officers only had a large print available.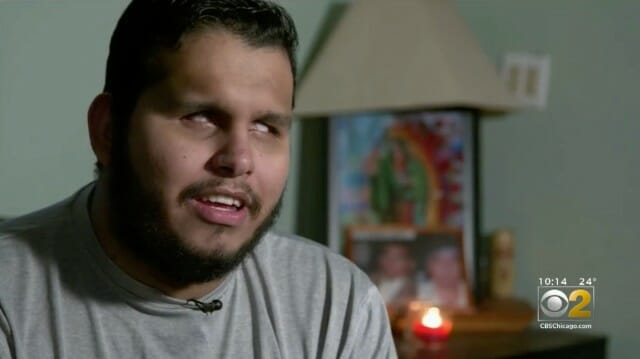 The 23-year-old, who came to the United States with his family on August 27, 2013, was born premature and diagnosed with retinopathy of prematurity.
As a result he is legally blind. His eyes are clouded over and he uses a white cane.
"This was my first letdown in America."
When Delgado, a legal permanent resident, left Mexico with his family he had plans to get a better education.
"I was going to be someone," he told CBS Chicago. "I was going to make my family here and there proud."
He spent the past six years learning English by listening in school and to the radio. He also spent time reviewing the civics questions he'd encounter on the U.S. citizenship test. Delgado even went to an optometrist for proof that he is legally blind.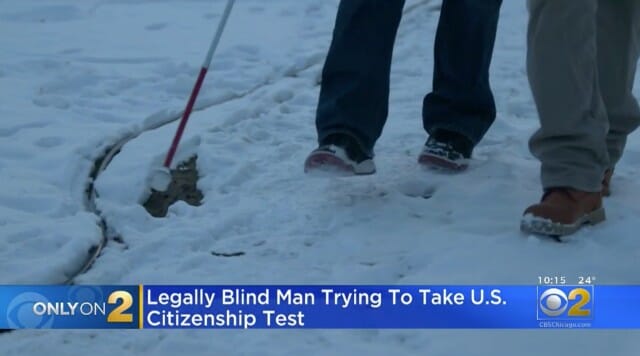 However, on May 21, 2019 when he took the citizenship test, despite answering the civics portion, which was oral, he stumbled on the reading portion.
The agent giving the test gave Delgado "three attempts to read a sentence," but as predicted the 23-year-old was unable to read it. They suggested Delgado return for a second attempt and the reading portion would be waived, but there was a stipulation–he had to visit an ophthalmologist to confirm that he was blind.
"They still didn't believe I was blind," he said. "To receive such negative news it shattered all of my dreams in one second."
Without health insurance, Delgado said he couldn't afford to prove something that was already quite obvious.
He recently received a letter in the mail alerting him to the USCIS's decision.
"Unfortunately, you were unable to read a sentence in the English language," it said. "Regrettably, you were unable to achieve a passing score on the reading portion of the naturalization test."
While Delgado's first attempt at the U.S. Citizenship test was a failure, he's certain his second attempt will be successful. He's since been in contact with Darcy Kriha, a pro bono attorney, and they're hopeful he will be accomodated.
According to The Washington Post, a few months after Delgado took his test the USCIS began offering the test in Braille.
How could it have taken so long for a Braille version of the citizenship test? And why did the agent tell Delgado he would need to visit a specialist to confirm a disability that is visible?
Share this if you're outraged that those with disabilities aren't being given the same opportunity as everyone else.


[ad_2]