[ad_1]

The internet has given us a lot of new terms to describe our animal friends, but no phrase seems as spot-on as "chonk," a word coined to describe hefty, plus-sized cats. Felines are typically thought of as slender and agile, but sometimes you see a round chubby house cat, and you just know he's a big ol' chonker.
But now one cat is "redefining the term," literally breaking the internet with his incredible beefiness in his search for a new home. It's a story that proves that sometimes bigger really is better.
The Morris Animal Refuge, a shelter based in Philadelphia, is committed to getting all of its animals adopted. Yesterday, they took to social media to post a photo of one of their resident cats looking for a new home: BeeJay, aka Mr. B.
And they decided to emphasize his most striking feature.
"OMG, big boi Mr. B is a CHONK. He's a chonk of a chonk," the post reads.
Indeed, BeeJay is one gigantic cat. Between his huge size and his color and stripes pattern, he looks like a bobcat. The two-year-old domestic shorthair weighs about 26 pounds.
Beyond his size, though, the most striking thing is his expression. His sad eyes tell you that this shelter cat is lonely and looking for a loving family.
"Adopt this jumbo-sized package of fluff & love, and help this sad-eyed guy find happiness!" the shelter wrote.
While it's not known if Mr. B has found a home just yet, it can't be long now—he's a viral star, and the adoption requests have been pouring in.
The Facebook post has been shared over 6,000 times, and it has nearly 10,000 retweets on Twitter. Many people commented expressing interest in adopting the big boy.
In fact, his page on the shelter website is currently crashed, presumably unable to handle all the sudden interest. (You can view a cached version here). This cat, as they say, "broke the internet."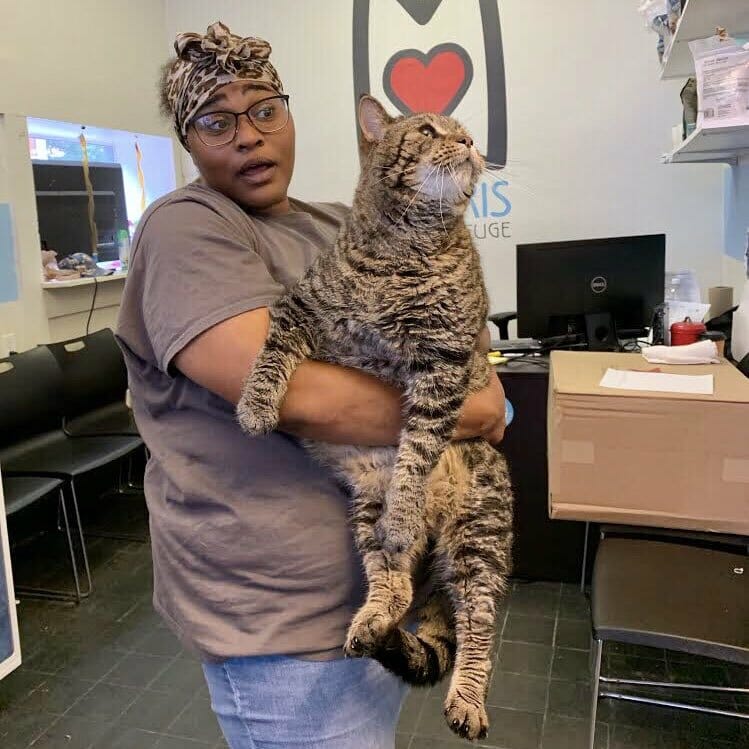 Hopefully online fame will help BeeJay go to a great home! Share this story to help spread the word!


[ad_2]