[ad_1]

Tommy Smith wears a Trenton Thunder uniform and is well loved by the crowd, but he's not one of the team's top baseball players. He's the bat boy.
And on Tuesday he was honored for his contributions to the organization with a tailgate party and his very own bobble head.
Four years ago, Tom Smith, Tommy's father, was looking for something for his son to do, when he thought his son with special needs, might enjoy being a bat boy.
Originally the plan was for Tommy to work with the Class AA affiliate of the New York Yankees baseball team in Trenton, New Jersey, for a few innings. But after a few games there was a problem.
"Tommy enjoyed it. The team seemed to enjoy it," Tom said. "And then Tommy started not wanting to leave in the fourth or fifth inning."
The once shy 20-something started breaking out of his shell. Now, he greets coworkers in the clubhouse, fires up the crowds during games, and runs out of the dugout and hug a player after they score.
"Every single guy in this locker room loves Tommy," Justus Sheffield, a former pitcher with the Thunder, said, according to New Jersey 101.5. "That's not just because he's a little different than we are; he's overall a great person. He interacts with us well, we all love him, he brings an energy to the field and we're lucky to have him in the dugout with us."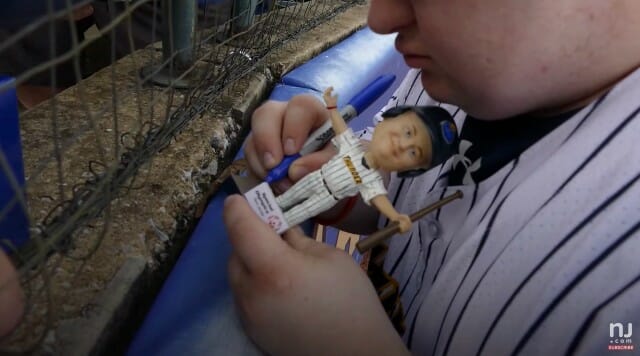 During Tuesday night's game, Tommy was honored in a way that is typically reserved for the team's MVPs. But then again, Tommy is one of the Thunder's MVPs.
Prior to the game, nearly 500 people filled the parking lot outside of the stadium to celebrate Tommy. Friends and family came from near and far to participate in "Tommy Town."
Tommy signed autographs for fans as he mingled with guests for two hours before he went to work. Even after he was inside the stadium he continued to greet fans and sign the very special bobble heads the Trenton Thunder handed out in honor of their bat boy.
"He is a special young man that everyone loves. He brings energy and just makes you feel good," Patrick Osborn, the Thunder's manager, told NJ Advance Media. "You can't really put it into words, but you know inside your heart that having him around, it puts you in a good spot."
What an honor for Tommy.
He is such an awesome man who contributes to all aspects of the Thunder organization. It's easy to see why he's loved by everyone.
Congratulations Tommy! Keep up the good work!


[ad_2]