[ad_1]

Have you ever come across the perfect job, but after reading the job description realized you weren't qualified because you didn't have the right degree?
Herbert Perkinson, 81, a school custodian in Bartow County, Georgia, was up for a promotion, but despite his experience he didn't qualify because he didn't have a high school degree or a GED.
"It broke my heart and his to that we couldn't offer him the position at the time," Michael Blankenship, the principal at Woodland Middle School where Herbert is a janitor, said.
Herbert has been a janitor at the Georgia middle school for five years, but wasn't qualified for the promotion because 67 years earlier he hadn't received a high school degree.
The 81-year-old wasn't planning on getting his GED, but the school's principal encouraged him.
"I never would have tried to get it but he wanted me to take this position," Herbert said.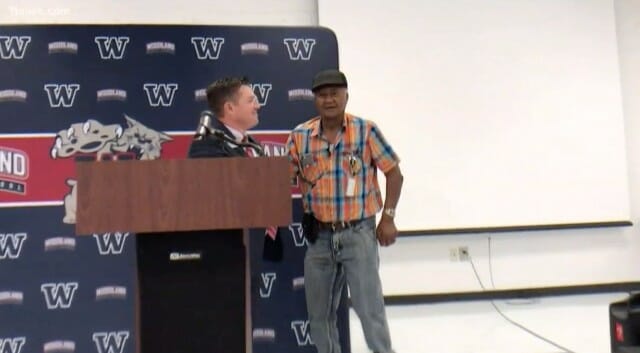 Herbert took the necessary classes and after receiving some help from his daughter, he received his GED. He was also promoted to the job of head janitor.
To celebrate the promotion, Herbert was surprised with a small recognition ceremony at the middle school.
"Everybody else knew it except me," he said.
Congratulations, Herbert! Job well done!
Send your congratulations to Herbert by sharing this on Facebook.


[ad_2]