[ad_1]

The holidays are over, which means it's time to start preparing for the next one. Bring on Valentine's Day! For most stores, it seems like as soon as the calendar says December 26 the Christmas decorations come down and pink and red hearts go up.
While most of us want some time to recover and avoid holiday whiplash, there's one person who is already planning ahead: Maj. Bill White.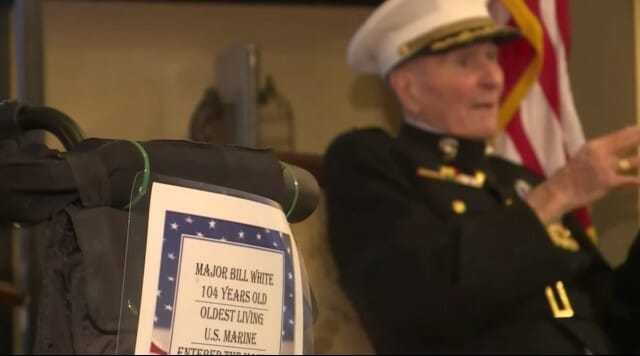 White, 104, is an accomplished U.S. Marine Corps veteran. He served in World War II, fought in the Battle of Iwo Jima, and then went on to a long career within the military.
"I spent 30 years active duty and 54 retired," he told FOX40. "I'm still here. I'm 104. Can't complain."
Along the way he's collected mementos and memories from his journeys. Some, like the time a grenade exploded six inches from him at the Battle of Iwo Jima, are far from fond memories, but they're apart of him. Just like the Purple Heart he was awarded.
Since he's acquired a lot of memories over the past 104 years, he's taken up scrapbooking.
"It's kept me busy just trying to locate or keep track of what's happened to me, where, when," he said.
Now he's asking for the public's help.
The California-native keeps his albums organized by year and while 2020 has just started, he wants to fill it up with something special, Valentine's Day cards.
"I'll save every one of them like I've been saving little things that have come up until right now and they'll be a personal part of my history," he said.
If you would like to send a Valentine's Day card to White, you can address it to:
Operation Valentine
ATTN: Hold for Maj Bill White, USMC (Ret)
The Oaks at Inglewood
6725 Inglewood Ave.
Stockton, CA 95207
Let's help make White's Valentine's Day! Share this on Facebook!


[ad_2]