[ad_1]

Flying with an infant isn't easy. No one jumps up and down at the thought of it, but sometimes it's absolutely necessary like when Dustin and Caren Moore had to fly home from Colorado to California with their newly adopted daughter. She was only eight days old.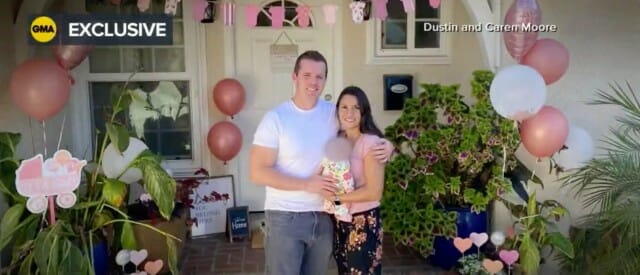 Dustin recently shared a heartwarming story on Twitter about his daughter's first flight, and it was certainly a flight to remember.
The flight occurred on November 9, 2019, but Dustin said he only recently felt compelled to share the story after encountering a lot of negativity and needing some positivity.
About halfway through their flight on Southwest Airlines, the couple's daughter "politely informed" them she needed a new diaper. A flight attendant named Jenny showed the couple to an area in the back of the plane and gave them some privacy.
But that was far from the end of the well wishes.
Another flight attendant, Bobby, asked about their daughter and Dustin and Caren shared the same adoption story.
Then Bobby got on the intercom.
"When Bobby made the announcement that we were flying home with our newly adopted daughter the whole plane just erupted in cheers and whistles," Dustin told "Good Morning America".
The Moores had been trying to start a family for nine years and the amount of support they received from the passengers and crew left them "stunned and overwhelmed."
"Nobody knew how significant that was to us," Dustin said. "All those worries and those fears that we had … 'Are people going to be kind to our sweet daughter even though we adopted her?' and everybody who basically just shouted yes in unison to each other and made us feel so good."
The Moores kept every napkin and put them in a scrapbook.
"I can't think of any better way that we could have had to bring our daughter home," Dustin said.
Congratulations to the Moores! May you never forget this flight and may your life always be filled with love.
Share the love!


[ad_2]